Whether it's your email inbox, your Twitter home timeline or your Facebook News Feed, most of us are used to lots of different people, companies and services aggressively trying to capture a tiny slice of our attention as we scan for the information and messages we care about most.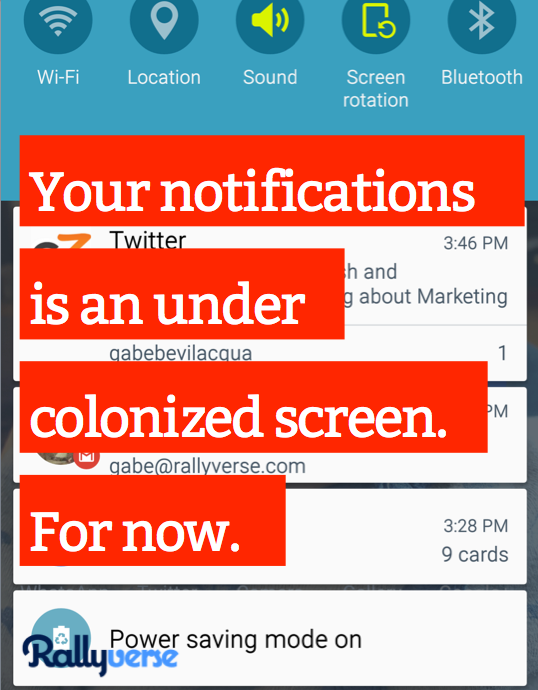 Of course, the rituals and rules of attention chasing in those various locations are well established and policed, whether by the spam filters at Google or the latest News Feed update at Facebook (you're on your own with Twitter).
But there's another place on your minute-to-minute digital checklist that, to date, is relatively undercolonized: your mobile notifications screen. And some recent news suggests that it may not be undercolonized for much longer.
Why do notifications matter? Because they aggregate the attention demands of the other apps:
That pull-down panel aggregates activity from everything on your phone, and Google and Apple have made notifications actionable and given them payloads. One can already look at an iPhone or Android phone's notification screen and ask – 'where's the algorithm filtering this?' And in a sense, the notification panel fills the 'cross platform compatibility' role that some people would like to see in messaging – all the notifications for all my messaging apps show up there. More and more, one's primary interaction with any app, social messaging or otherwise, is a little pop-up with a button or two.
In other words, that notifications panel is relatively unexploited, and mostly controlled by the folks operating your OS (Apple, Google for the most part). Getting to users in this environment is valuable. It's essentially a meta-layer that sits atop all the other places that apps attempt to get your attention.
With that in mind, we shouldn't be shocked to discover that the Apple Watch is especially aggressive with notifications. Or that Facebook is allowing other apps and services to push notifications through its extremely popular (600 million MAUs) Messenger app. Or that Chrome is going to have its own notification layer.
Everyone is coming for your notifications. Consider yourself warned.